Skip to Content
Dentures for Tooth Replacement
If you have lost all of your natural teeth, whether from periodontal disease, tooth decay, or injury, complete dentures can replace your missing teeth, and give you your smile back. Replacing missing teeth will benefit not only your appearance but also your health. You'll be able to eat and speak, two things that most people often take for granted until they are also burdened with premature tooth loss.
A complete denture replaces natural teeth and provides support for cheeks and lips. Without support from the denture, facial muscles sag making a person appear older.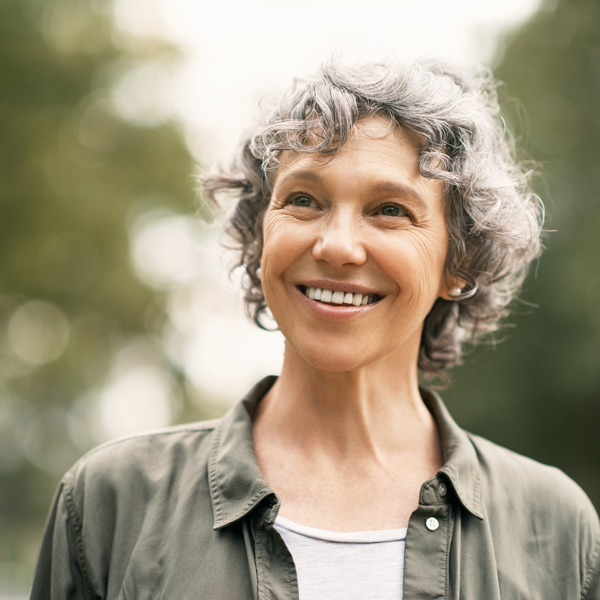 Complete Denture Types
There are various types of complete dentures. A conventional full denture is made and placed in the patient's mouth after the remaining teeth are removed and tissues have healed. Healing may take several months.
What Is the Procedure to Get Dentures?
An immediate complete denture is inserted as soon as the remaining teeth are removed. The dentist takes measurements and makes models of the patient's jaws during a preliminary visit with immediate dentures, the denture wearer does not have to be without teeth during the healing period.
The framework of the complete denture, called the base, generally is made of flesh-colored acrylic plastic. The base of the upper denture covers the palate while that of the lower is shaped like a horseshoe to allow room for the tongue. The gum and bone tissues of the dental ridge support the denture. The base, which conforms closely to the ridge, is held in place with a thin film of saliva.
When the base of the upper denture rests over the gums and palate, a seal is created, which holds the denture in place.
Cheek muscles and tongue also help hold the lower denture in place. If you have a few sound individual teeth, the tooth roots may be used to provide support for an Overdenture, once root canal therapy is performed on the teeth. Then the dentist reduces the teeth to just above the gumline. The dentist will fabricate a denture that is inserted over the roots and the gums.
A complete denture also may be attached to several implants, which allows for a more secure fit. Properly healed implants can help reduce jaw and gum shrinkage. Your dentist will determine which type of denture is right for you. When you need a complete smile again, give us a call and schedule an appointment. Please contact one of our offices in Irwin, Greentree, West Mifflin, Monroeville or Pleasant Hills, PA!