Skip to Content
Permanent Dentures & Tooth Replacement
Are you, a friend, or a family member tired of putting up with loose dentures or partial dentures? Do your replacement teeth spend more time in the drawer or in your purse than in your mouth?
If you would like to have the look, the feel, and the comfort that you once had from your own teeth then The Dentistry may have a solution for you; dental implants. Simply by inserting a titanium root replacement implant into your bone and then making a denture or bridge that is joined to the implant, we can give you the smile and comfort you deserve!
For a no-charge implant consultation call 1-800-833-8485.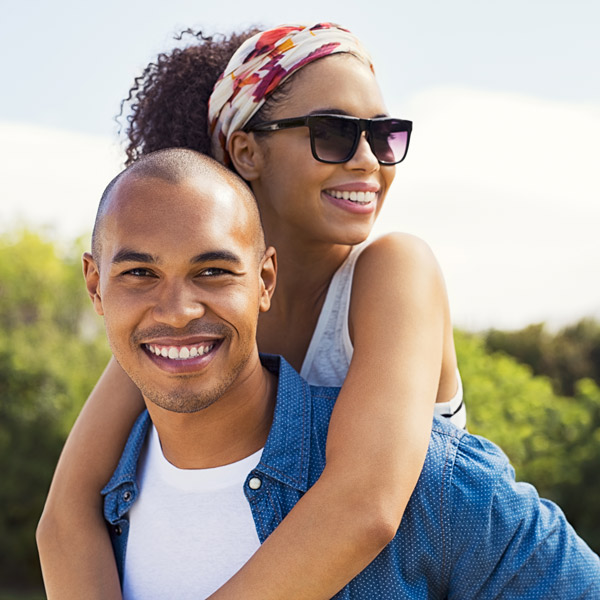 What Is a Dental Implant?
Dental implants are artificial roots that are made from titanium. The titanium implants are inserted into the upper or lower jaw bone by a dentist. Titanium has been used for many years for joint replacement by orthopedic surgeons. Dental implants have a proven, safe, and reliable track record.
Implants can last a very long time and often last a lifetime. After the implants are inserted into the bone, the bone attaches to and anchors the implant.
Once the implant, or multiple implants, are anchored into the jaw our dentists can make either a removable snap-in denture or a fixed denture or bridge that does not come out of your mouth. Of course, an implant can be used to replace a single tooth or multiple individual teeth.
Denture Implants
Several types of dental implants and implant systems exist to secure dentures. "Snap-in dentures" provide superior stabilization ensuring your dentures stay comfortably in place and yet can still be removed for cleaning and care. Snap-in dentures tend to me more affordable than non-removable denture implant systems making them a popular choice.
Full-Arch Implant Solutions
There is an alternative to removable dentures and that option would be fixed dentures. This would mean that the replacement teeth would stay in your mouth and only a professional would be able to remove the denture should that be necessary. The dentures are attached to the implants by tiny screws. You would clean and brush just as though you had your own teeth.
Single & Multiple Tooth Implants
There are also implant solutions for non-denture patients. Single and multiple tooth implants can provide a permanent solution for tooth loss. Implants can be combined with a bridge or crown providing a permanent long term solution to replace those teeth. Implants can restore your natural smile as well as prevent bone loss associated with tooth loss.
How Much Do Dental Implants Cost?
The Dentistry offers extremely competitive pricing for dental implant procedures. At The Dentistry we keep our fees low because we believe everyone should have access to affordable dental care. When you need a complete smile again, give us a call and schedule an appointment. Please contact one of our offices in Irwin, Greentree, West Mifflin, Monroeville or Pleasant Hills, PA!